Make your life easier with our convenient pickup and drop-off service.
We will wash, dry & fold your laundry – you just leave it and retrieve it!
We'll also take your bulky items – comforters, blankets, sleeping bags, rugs…
Our hands-free electric sliding door allows you to enter/exit with ease.
Coin operated laundry.
We are the first Quantum Gold Speed Queen laundry in Oklahoma.
Fully Attended/Clean Facilities
Quantum Gold Speed Queen Equipment With Wash System Network
Green/Eco Friendly Equipment
Comfortable Atmosphere
Electric Sliding Entrance Door
ATM Machine
Free Wi-Fi
Coffee, Snack & Soda Vending
Soap Vending
Security Cameras Inside & Out
18lb, 30lb, 60lb Washers; 30lb, 75lb Dryers
Flat Screen TV's
Air Conditioned/Heated Building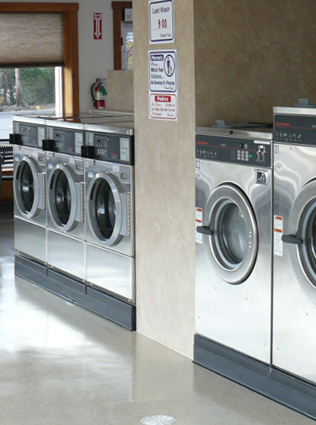 Drop By Today...
Business Hours:
8:00am to 8:30pm Mon-Sat
12:30pm to 8:30pm Sun